GOLD COLLECTION 2023:
Salute to the Corvette ZO6
Presented by

Salute to the Corvette ZO6
As Bloomington Gold returns home to Bloomington, IL, the Gold Collection will also return again to where it was first displayed in 1984, in the Bone Student Center at Illinois State University. 
The theme of the 2023 Gold Collection will be A Salute to the Corvette Z06, and feature 30 production and competition Corvettes built with RPO Z06. 

The Gold Collection is open June 2nd 8:00am-5:00pm and June 3rd 8:00am-4:00pm, at which time the cars will leave the Bone Student Center, a not to miss event! Admission to the Gold Collection is included with your Bloomington Gold ticket. 
Join us in the excitement of this Salute as we unveil the cars at the Gold Gala Salute to the Corvette ZO6.
Thursday, June 1st
6:00pm-8:00pm
Bone Student Center
The Gold Gala is a ticketed event, tickets can be purchased here. The Gold Collection on Friday and Saturday is part of a daily admission pass.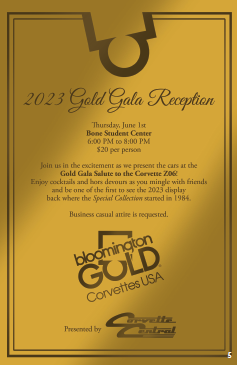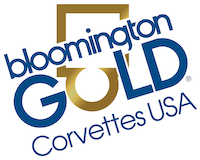 AN OVERVIEW OF THE HISTORY OF THE DEVELOPMENT OF THE 1963 RPO Z06 CHEVROLET CORVETTE
By Marty Fowler

10 years after the release of the Corvette, a ZO6 options package was presented. Since then, the ZO6 package has been offered in 4 out of 7 generations. Each generation offering a more powerful version of the previous. To understand the passion for the ZO6, one must first take a deep dive into the development of the RPO ZO6 over 60 years ago.